Why Choose IFAB to Design Your Bakery?
We understand the delicacy of ingredients, as well as the special handling and storage requirements for bulk items. We are well versed in baking and frying processes, allowing us the ability to create an optimized and hygienic building and infrastructure to accommodate the specialized processes for each of our clients.
Once the food products have been cooked, we can also manage the methods of cooling and packaging them – from full-scale spiral freezers to cooling tunnels.  We have the expertise to integrate the requirements for process and sanitary water, as well as suitable fire suppression for ovens and fryers.
Our Experience Designing Bakeries and Snack Food Plants
Not all cooks have the same experience, and not all engineering companies have designed bakery plants.
When you're investing in a strategic project for your food company, you don't want a partner that is trying a new recipe with your budget.
We have worked with all kinds of bakeries and snack food production.
Bakery & Snack Food Processing
We have the knowledge and expertise to complete any size of project.
Features for past designs for bakeries and snack food processing plants include:
Hygienic design of the building and mechanical and electrical infrastructure for bakeries, snack food, pasta, and confectionery product lines
Continuous line baking of bread, rolls, and cookies
Continuous line fryer operations for snack food products
Batch baking of bread, cookies, and other baked goods
Pasta production and cooking
IQF for par-baked goods
Bulk handling and distribution requirements for flour, sugar, and oil
Ventilation systems for high heat areas
Spiral coolers
Packaging systems for bagged, wrapped, and cello
CO2 suppression systems for fryers
Experience with regulated design of BRC, AIB, and HACCP certification
Portfolio: Bakery & Snack Food
The IFAB Team has worked with many clients whose projects involved renovations, expansions and building new bakery facilities and/or snack food production.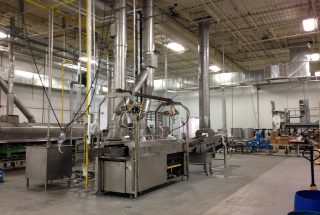 East Indian Bakery
Southern Ontario
Facilitated master facility plan with client and designed fast track facility renovation to consolidate three facilities under one roof. The project included fryer lines, bakery, custom food preparation, and a retail store.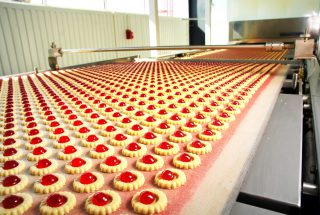 Baked Goods National Producers
Southern Ontario
Designed infrastructure renovation to change over existing warehouses for fast track move-in of multiple product lines and a mix of batch and continuous systems for a high profile, high volume bakery.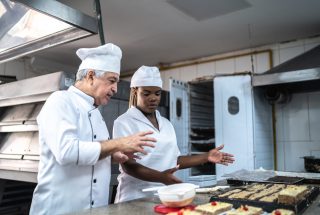 Teaching and Innovation Centre
Southern Ontario
Renovated existing classroom space into a bakery teaching facility, completed by overcoming challenges of ventilation in an institutional facility.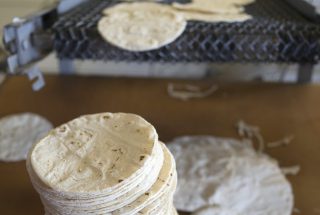 Tortilla Line Expansion
Northern Alberta
Installed a new baked goods line at the Edmonton facility.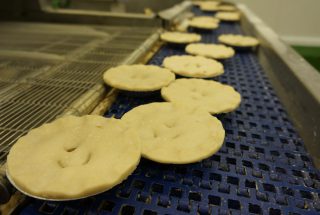 Pie and Baked Goods Manufacturer
Southern Ontario
Prepared preliminary building design for a 78,000 square foot bakery plant for design/build and prepared process installation drawings for new and relocated equipment.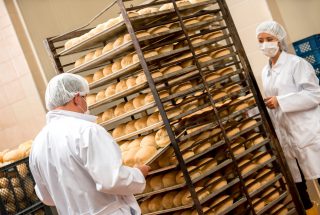 Industrial Bakery
Southern Ontario
Team members led hygienic design and project management of the new facility of more than 300,000 square feet for bread, rolls, and English muffins with building LEED® Silver design and all amenities. Included details for bulk flour and ingredient piping, spiral cooling, and multiple types of packaging.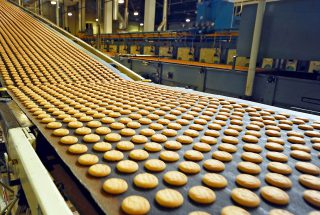 High-Speed Bakery Facility
Southern Ontario
Designed and provided project/construction management of a 25,000 square foot expansion and plant renovation of a federally inspected bakery plant. The $11M plant included the installation of a new, high-speed bakery line.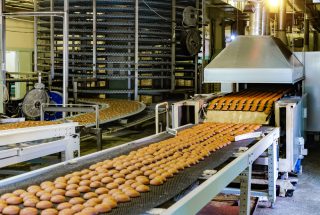 Large Bakery Producer
Ontario
Developed a multi-year master plan involving different bakery facilities to determine the best course of action for a new production line and for overall efficiencies, including moving equipment between facilities. Analyzed costs of several options in phases to deliver a project definition and return-on-investment equation for executive approval.